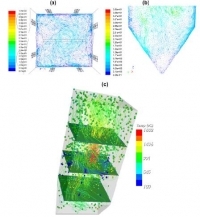 Clean Energy's partners, who are researchers of CERTH/CPERI, have a considerable experience in process modeling of thermal installations and detailed modeling of plant components (boilers, furnaces, heat exchangers) through CFD simulations.
---
Process calculations
Clean Energy's engineering team has considerable experience in thermal cycle calculations as well for industrial applications as for R&D purposes.
---
CFD Simulations
Clean Energy's specialists have a considerable experience in the simulation of industrial boilers and plant components.
---
Environmental flows, Environmental impact assessment
The realistic simulation of environmental flows is a subject of major economic, social, human and scientific interest.
---
Droplet dynamics
The group's specialist areas include the numerical simulation of phenomena related to liquid surfaces flow dynamics, such as droplets.
---